Not really gold...but CRYSTALS! Yep--Crystal Park has always been on my bucket list and I got to check that little nugget off my list this Labor Day. WOW! What an experience. I mean, how can there be SO many crystals in one place with tons of people digging them up daily? It's truly magical.
👉What's so cool about crystals you ask? Well, this prized gem I was fortunate enough to find is called a clear quartz. I'll be wire wrapping this beauty to wear for balance. It is called the master healer, the most powerful of all crystals. It is a power stone used for harmony and balance (perfect for Librans ⚖ ). It augments energy by absorbing , amplifying, and balancing, storing, retrieving, focusing, transmitting and channelling universal energy and is excellent for unblocking it.
🤧 I was under the weather a few days ago, so I put this power stone in a locket, wore it around my neck and asked it to help heal me. VOILA! Magic. Pure magic. If you don't have a clear quartz crystal in your arsenal--I highly recommend finding one!
Cheers to health and healing! 🙏
You know it's squash season right? Some of the fun things that the change of seasons bring is the different veggies we have the pleasure of eating. I thought I would share this EASY squash soup recipe.
INGREDIENTS
1 teaspoon coconut oil – you can use olive oil or whatever your cooking oil of choice is

1 onion

2 cloves garlic

6 cups cubed butternut squash

1 cup pumpkin puree – pure pumpkin, not the pumpkin pie filling!

3 cups vegetable broth – you can use chicken broth if you prefer

1 cup apple juice

1 tablespoon honey (or Agave syrup)

½ teaspoon curry powder

¼ teaspoon cinnamon

salt and pepper

½ cup heavy whipping cream (or Almond milk)

pumpkin seeds – get the kind out of the shell
HOW TO MAKE AUTUMN SQUASH SOUP
Heat coconut oil in a dutch oven over medium high heat

Add onion and cook until softened

Add garlic and cook another 30 seconds, until fragrant

Add cubed butternut squash, pumpkin puree, vegetable broth, apple juice, honey, curry powder, cinnamon, and salt and pepper

Simmer for 15 minutes, until the butternut squash is fork tender

Use an immersion blender (or a regular blender) and blend until smooth

Stir in heavy cream and heat through

Garnish with pumpkin seeds before serving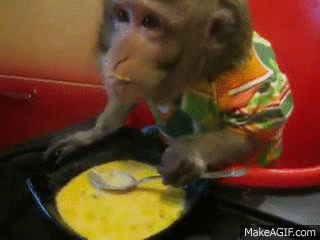 P.S. Today is the FIRST day of detox!! Let's GOOOOOO!!